Professor Adimado Inducted as Fellow of Ghana Academy of Arts and Sciences
Thu 17 Nov 2016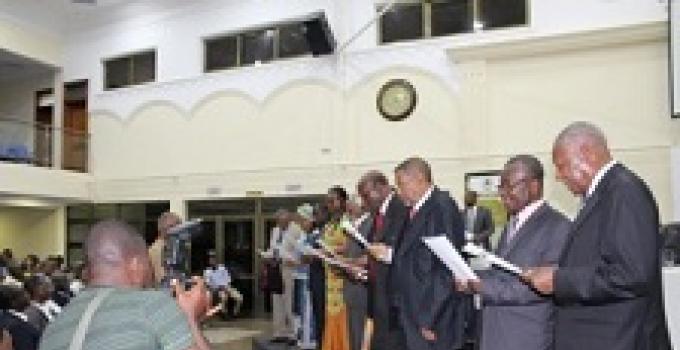 Professor Anthony Apeke Adimado of the Department of Chemistry at KNUST was elected as a Fellow of the Ghana Academy of Arts and Sciences in April 2016 and was on Tuesday November 15, 2016  inducted at an impressive ceremony in Accra. 
Professor ADIMADO is a product of the KNUST, Kumasi, where he graduated in June 1975 with a BSc (Hons) degree in Chemistry. He proceeded to the University of Ibadan, Ibadan, Nigeria, where he successfully completed his Doctorate Programme and was awarded a PhD (Chemistry) degree in October 1979; and was subsequently appointed to a Lectureship position in the same Department. Professor Adimado returned to Ghana and took up appointment with the KNUST as a Senior Lecturer in August 1985. He rose through the ranks by dint of hard work to become a PROFESSOR of Chemistry in 2001, and statutorily retired in September 2010. His research areas of expertise span synthetic inorganic chemistry, theoretical inorganic chemistry, analytical chemistry and environment science where he and his research team have made valuable contributions. As a retired Professor of Chemistry, he continues to provide mentorship to young and enterprising Scientists and Lecturers. He has contributed a substantial number of research articles that promote national and international development. His scientific works have been cited in a number of internationally acclaimed Journals and Bibliographies.
Professor ADIMADO has also led a number of Delegations in raising Research and Development Funds from Donor Agencies and other International Institutions for Research and Development activities in the University and nationally. He holds a number of Scholarship/Fellowship Awards from the following: French Government, USAID, ICTP, Trieste, Italy, UNESCO and the Rockefeller Foundation, USA
Professor ADIMADO is a Chartered Chemist and a Member of the Royal Society of Chemistry (CChem, MRSC), a Member of the Ghana Chemical Society (MGhCS) and the sole awardee for the 23rd set of the Distinguished Friend of Council (WAEC), in March 2016.
Professor ADIMADO has served his University and Ghana in diverse ways. He has held various positions as Head of Chemistry Department, Dean of School of Graduate Studies, Dean of International Programmes, all at the KNUST. He also consults on tertiary education issues for the National Council of Tertiary Education (NCTE), the National Accreditation Board (NAB) and the National Board for Professional and Technician Examination (NABPTEX) and the Ministry of Education in Ghana. He recently led a team of experts in assessing the preparedness of the ten (10) Polytechnics in Ghana for their conversion into Technical Universities in 2016.
The Ghana Academy of Arts and Sciences, established in 1959, is a learned society whose general aim is to promote the pursuit, advancement and dissemination of knowledge in all branches of the sciences and the humanities. It was the first Academy to be established in Black Africa.
Commenting on Professor Adimado's election and induction, the Head of the Department of Chemistry, Dr. Osei Akoto said the Department was proud of Professor Adimado's achievement, adding that "as one of the most eminent scientists from this department, we are indeed glad that Professor Adimado's achievements have been recognized by one of the foremost academies in Africa." Professor Adimado expressed the hope that his election and induction will open the door for many more Fellows from the department in the not too distant future.
Professor ADIMADO is married to Mrs Rose Adimado and has three children, Dr Kofi Selasi Adimado (USA); Mr Edem Yao Adimado (Capital Bank, Accra) and Ms. Mawuena Ama Adimado (UK).